Two Family Home

Bankruptcy Auction
Auction
June 6, 2019 at 2:00 pm
Property Location
591 Huguenot Avenue
Staten Island, NY 10312
Auction Location
NY LGuardia Airport Marriott Hotel
102-05 Ditmars Boulevard
East Elmhurst, NY 11369
Photo Gallery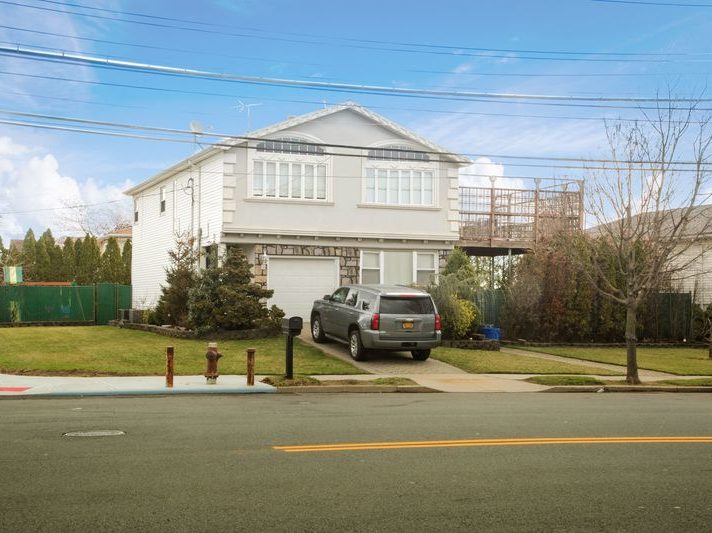 Details
Bankruptcy Auction – United States Bankruptcy Court Eastern District of New York
In Re: Joseph Antonakos – Case # 16-42935 (ESS)
Two Family Home
Details:
591 Huguenot Avenue, Woodrow, Staten Island, NY 10312
3,104 Sq Ft Finished Area
5 Bedrooms and 2 Full Bathrooms
Hi-Ranch Style Home
1 Car Garage
Raised Patio off Top Floor
8,000 Sq Ft Corner Lot (80′ x 100′)
Two Private Driveways
Ground Level:
Interior Garage Access
Entrance Foyer
Ground Level Unit:
Kitchen
Living Room
2 Bedrooms
1 Full Bathroom
2 Curb Cuts (Potential 2nd Private Driveway)
2nd Floor Unit:
Eat-in Kitchen
Living Room/Dining Room/Kitchen – Open Concept
3 Bedrooms
1 Full Bathroom
Access to Raised Patio
Attic
Full Basement:
Unfinished
Utilities
Storage
Additional Information:
Borough: Staten Island; Block: 6338;  Lot: 70
Each Unit Individually Metered for Gas & Electric
Forced Hot Air Heat
2-Zone Heat and Central Air Conditioning (1 Zone per Unit)
In-Ground Sprinkler System
Video/Intercom Doorbell
Built in 1975
Annual Real Estate Taxes: $8,374
Currently Occupied & Delivered Vacant at Closing
NYC Estimated Market Value (2019-2020): $1,061,000
Suggested Opening Bid: $450,000
---
Inspections/Viewings: Wednesday, May 29th & Monday, June 3rd from 1:00 pm – 3:00 pm.
Auction Date & Time: Thursday, June 6, 2019 at 2:00 pm.  Registration commences at 1:00 pm.
Auction Location: LaGuardia Airport Marriott Hotel, 102-05 Ditmars Boulevard, East Elmhurst, NY 11369.
Terms & Conditions of Sale: Property will be sold free and clear of all monetary liens.  In order to register to bid, all prospective bidders must present a cashier's check in the amount of $50,000 made payable to "Goldberg Weprin Finkel Goldstein LLP as Attorney". Please download the complete Terms and Conditions of Sale.
Buyer's Premium: A six (6%) percent Buyer's Premium will be added to the Successful Bidder's high bid to determine the contract price to be paid by the Successful Bidder.
Have Questions? Get In Touch
You must be logged in to send an Auction Inquiry.

Goldberg Weprin Finkel Goldstein, LLP Attorneys for the Chapter 11 Debtor & Debtor-In-Possession
Richard B. Maltz, Auctioneer
David A. Constantino, Auctioneer
Richard B. Maltz, Licensed Real Estate Broker
Phone (516) 349-7022 Fax (516) 349-0105
The Real Property is being sold "AS IS" "WHERE IS", "WITH ALL FAULTS", without any representations, covenants, guarantees or warranties of any kind or nature, and free and clear of any liens, claims, or encumbrances of whatever kind or nature, with such liens, if any, to attach to the proceeds of sale in such order and priority as they existed immediately prior to the Closing, and the sale of the Real Property is subject to, among other things (a) any state of facts that an accurate survey may show; (b) any covenants, restrictions and easements of record; (c) any state of facts a physical inspection may show; (d) any building or zoning ordinances or other applicable municipal regulations and violations thereof; and (e) environmental conditions. By delivering their respective Deposits, all Bidders acknowledge that they have had the opportunity to review and inspect the Real Property, the state of title thereof and laws, rules and regulations applicable thereto, and will rely solely thereon and on their own independent investigations and inspections of the Real Property in making their bids. Neither Maltz, the Seller nor any of their collective representatives makes any representations or warrantees with respect to the permissible uses of the Real Property including, but not limited to, the zoning of the Real Property.  All Bidders acknowledge that they have conducted their own due diligence in connection with the Real Property and are not relying on any information provided by Maltz, the Seller, or their professionals.  The Real Property will be sold subject to any and all violations or conditions requiring corrective action.  The information contained herein was derived from sources deemed reliable, but is not guaranteed.  Most of the information provided has been obtained from third party sources and has not been independently verified.  It is the responsibility of the Buyer to determine the accuracy of all components of the sale and Property.  Each potential bidder is responsible for conducting his or her own independent inspections, investigations, inquiries, and due diligence concerning the Property, including without limitation, environmental and physical condition of the Property.  All prospective bidders are urged to conduct their own due diligence prior to participating in the Public Auction.  Bid rigging is illegal and suspected violations will be reported to the Department of Justice for investigation and prosecution.