Turn-Key Restaurant

Bankruptcy Auction
Auction
March 11, 2019 at 2:30 pm
Property Location
290 Glen Cove Road
Roslyn Heights, NY 11577
Auction Location
US Bankruptcy Court
290 Federal Plaza
Central Islip, NY 11722
Photo Gallery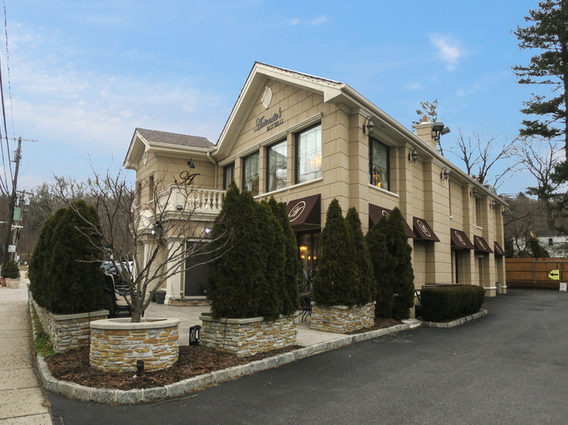 Details
Bankruptcy Auction – United States Bankruptcy Court Eastern District of New York
In Re: ANTONETTE'S OF EAST HILLS, LLC. – Case # 18-76802-reg
Turn-Key Restaurant/Banquet Hall
Long-Term Lease Through 2036
Details:
290 Glen Cove Road, East Hills/Roslyn Heights, NY 11577
8,500+/- Sq Ft Restaurant / Banquet Hall
$600,000+ in Recent Improvements
Fully-Equipped & Decorated Turnkey Opportunity
Handicap Accessible
Private Parking for Approx. 25+ Vehicles
Agreements for Additional Parking on Adjoining Lots after 4:00 pm & on Weekends
First Floor:
93-Patron Occupancy
Dining Room
Full Service  Bar
Fully Equipped Commercial Kitchen w/Dishwashing System
Coffee Service Area w/Espresso-Cappuccino Machine
Coat Room
Customer Elevator to 2nd Floor
Second Floor:
70-Patron Capacity
Banquet Hall
Banquet Bar w/Soda System
Fully Equipped Secondary Kitchen w/Dishwashing System
Linen Room
Women's, Men's & Handicap-Accessible Bathrooms
Basement:
Offices
Employee Lockers
Liquor Storage
Soda System for Primary Bar
Other:
Point-of-Sale System
Audio/Video Systems
Fully Stocked w/Tables, Chairs, Linens, Tableware, Glassware, Utensils, etc…
Fully Decorated w/Window Treatments, Lighting, Art & Decor. High-End Finishes Throughout
Kitchens Fully Equipped w/Ranges, Hoods, Fire-Suppression Systems, Ovens, Fryers, Broilers, Prep Tables, Sinks, Dishwashers, Walk-In Box, Refrigeration, Freezers, Ice Machines, Microwave Ovens, Butcher Block, Dough Mixer, Slicing Machine, Gadgets, Chef Tools, Pots, Pans, Trays, Racks and Much More…
Lease Information:
18-Years Remaining on Lease
Current Monthly Rent: $13,525
Current Annual Real Estate Taxes (Including Village): $73,159
---
Viewings: Wednesday, February 13th & Mondays, February 25th & March 4th from 2:00 pm – 4:00 pm each day.
Auction Date & Time: Monday, March 11th, 2019 at 2:30 p.m.  Registration begins at 1:30 p.m.
Auction Location: US Bankruptcy Court, Outside Courtroom 860, 290 Federal Plaza, Central Islip, NY 11722.
Terms & Conditions of Sale: In order to register to bid, all prospective bidders must present a cashier's check in the amount of $20,000 made payable to "Spence Law Office, P.C.,  as attorney for Antonette's of East Hills, LLC". Please download the complete Terms and Conditions of Sale.
Buyer's Premium: A five (5%) percent Buyer's Premium will be added to the Successful Bidder's high bid to determine the contract price to be paid by the Successful Bidder.
Robert J. Spence, Attorney for the Chapter 11 Debtor & Debtor in Possession
Have Questions? Get In Touch
You must be logged in to send an Auction Inquiry.

Richard B. Maltz, Auctioneer
David A. Constantino, Auctioneer
Richard B. Maltz, Licensed Real Estate Broker
Phone (516) 349-7022 Fax (516) 349-0105
The Assets are being sold "AS IS" "WHERE IS", "WITH ALL FAULTS", without any representations, covenants, guarantees or warranties of any kind or nature, and free and clear of any liens, claims, or encumbrances of whatever kind or nature, with such liens, if any, to attach to the proceeds of sale in such order and priority as they existed immediately prior to the Closing. By delivering their respective Deposits, all Bidders acknowledge that they have had the opportunity to review and inspect the Assets, the Bidding Procedures, the Amended Asset Purchase Agreement, and will rely solely thereon and on their own independent investigations and inspections of the Assets, the Bidding Procedures, the Amended Asset Purchase Agreement,  in making their bids. Neither Maltz, the Chapter 11 Debtor, Debtor-In-Possession, the Attorney for the Chapter 11 Debtor, Debtor-In-Possession nor any of their collective representatives  makes  any representations or  warrantees  with respect to the permissible uses or condition of the Assets.  All Bidders acknowledge that they have conducted their own due diligence in connection with the Assets and are not relying on any information provided by Maltz, the Chapter 11 Debtor, Debtor-In-Possession, the Attorney for the Chapter 11 Debtor, Debtor-In-Possession, or their professionals.  The information contained herein was derived from sources deemed  reliable,   but is not guaranteed.  Most of the information provided has been obtained from third party sources and has not been independently verified.  It is the responsibility of the Buyer to determine the accuracy of all components of the sale and Assets.  Each potential bidder is responsible for conducting his or her own independent inspections, investigations, inquiries, and due diligence concerning the Assets.  All prospective bidders are urged to conduct their own due diligence prior to participating in the Public Auction.  Bid rigging is illegal and suspected violations will be reported to the Department of Justice for investigation and prosecution.