Screen Printing Plant

Bankruptcy Auction
Auction
April 7, 2016 at 11:00 am
Auction Location
47-00 33rd Street
Long Island City, NY 11101
Photo Gallery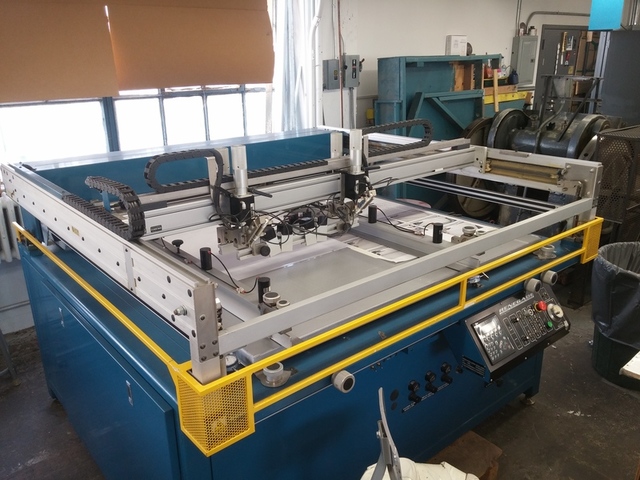 Details
Bankruptcy Auction – United States Bankruptcy Court Eastern District of New York
In Re: A D Die Cutting & Finishing, Inc. – Case No: 816-70318-REG
Fully Equipped Screen Printing / Die Cutting Plant
Details:
Partial Asset List:
M&R Saturn Platinum II 3040 Screen Printing Press
M&R Renegade Screen Printing Press
Moll Marathon Regal Folding / Binding Line
M&R Vitran II UV Screen Printing Conveyor Dryer
Shanklin Shrink Tunnels / Heat Sealers
NuArc 6000 Watt Exposure System
Tape Dispensers
Industrial Air 10 h.p. Air Compressor
Ingersol Rand 10 h.p. Air Compressor
Assorted Sheet-Fed Printing Presses
Die-Cutting Equipment
Stimpson Riveting Machines
Stimpson Paper Drill
Saber Shear
Nygren Dahly Paper Drill
MGD Lawson Pacemaker II Shear
Richards Electromatic Jig & Drill
Thompson National Crank Action Cutting – Creasing Machines
Rhin-O-Tuff Paper Punches
Standard Paper Box Machine Die Cutter
USM Eyelet Punch
Cementers
Bindery Equipment & Supplies
Ink
Bindermate II Stitchers
Minco Roller 311
Notchers
Scales
Table Saws
Light Duty Shelving
Office Furniture
Office Electronics
Machine Shop Tools
Welder
Hand Tools
Work Benches
Unmarked Corrugated Boxes
Carts
Paper Inventory
Foil Rolls
Shipping Supplies
Pallet Jacks
Rolling Bins
Lockers
Plan Files
Maintenance Tools
And Much More…
---
Inspections/Viewings: Thursday, April 7th from 9:00 am – 11:00 am.
Auction Date & Time:  Thursday, April 7th at 11:00 am.
Auction Location: 47-00 33rd Street (Between 47th and 48th Avenues), Long Island City, NY 11101.
Terms & Conditions of Sale: A 25% deposit in cash or certified funds will be required at the time of knockdown of bid.
Have Questions? Get In Touch
You must be logged in to send an Auction Inquiry.

Marc A. Pergament, Chapter 7 Trustee
Richard B. Maltz, Auctioneer
David A. Constantino, Auctioneer
Richard B. Maltz, Licensed Real Estate Broker
Phone (516) 349-7022 Fax (516) 349-0105
These assets are being sold on an "AS IS, WHERE IS" basis, and no warranty or representation, either expressed or implied, concerning the property is made by the Seller, Auction Company or any of their Agents.  The information contained herein was derived from sources deemed reliable but is not guaranteed.  Most of the information provided has been obtained from third-party sources and has not been independently verified.  All prospective bidders are urged to conduct their own due diligence prior to participating in the Public Auction Sale.  Maltz Auctions, Inc., d/b/a Maltz Auctions is exclusively acting as the marketing agent