GYM LEASEHOLD INTEREST

Bankruptcy Auction
Auction
August 24, 2020 at 11:00 am
Property Location
220 Fifth Avenue
Manhattan, NY 10001
Photo Gallery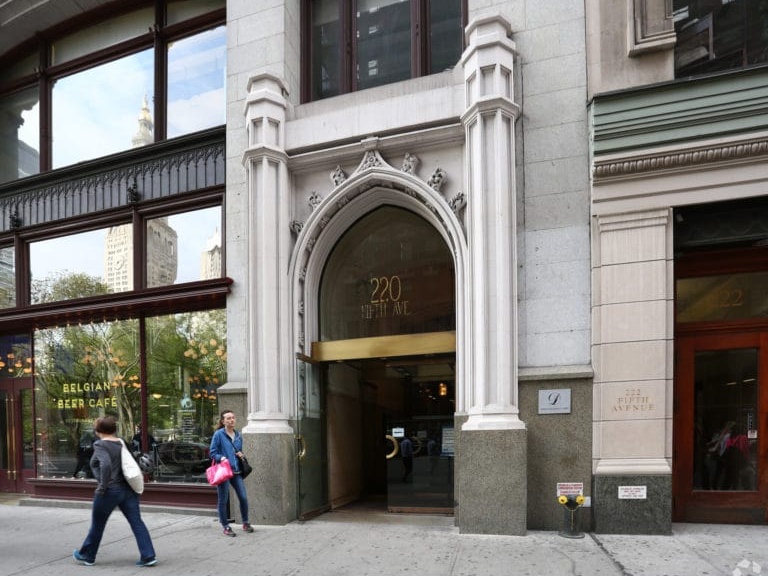 Details
Bankruptcy Auction – United States Bankruptcy Court Southern District of New York
In Re: Scorpion Fitness, Inc., et al – Case # 19-11231 (MEW) & 19-11232 (MEW), Jointly Administered
High-End Fitness Center – Leasehold Interest
Located on Madison Square Park
Details:
220 Fifth Avenue, Manhattan, NY 10001
On the Corner of 5th Avenue & West 26th Street
Directly across from Madison Square Park
Ground Level (496 Sq Ft), Mezzanine & Lower Level Space (6,590 Sq Ft)
Original Lease Term: 15 Years, 7 Months
Commencement Date: March 15, 2016 (by Modification Agreement dated July, 2017)
Lease Termination Date: October 15, 2031
Current Monthly Base Rent: $21,873.11
Current Annual Base Rent: $266,477.30 (March 15, 2020 – March 15, 2025)
Tenants Proportionate Share of Real Estate Tax: 4.9% Over Base Year Taxes
Tenant Responsible for All Utilities Associated with the Demised Premise (Sub-Metered or Utility Direct)
Security Deposit: $100,000
Additional Information:
Currently Built-Out as a Fitness Center (90% Completed Construction)
3 Blocks to MTA Subway 6, R, W Trains (28th Street Station)
MTA BM3 & BM4 Bus Stop in Front of Building
Delivered Vacant at Closing
Minimum Bid: $100,000 Plus Cure of Arrears to Landlord & Replacement of Security Deposit
---
Inspections/Viewings: Available by Appointment.
Auction Date & Time: Monday, August 24, 2020 at 11:00 am. Registration commences at 10:00 am.
Auction Location: Maltz Auction Gallery, 39 Windsor Place, Central Islip, NY 11722. Online and absentee bidding available with pre-registration. Please call for details.
Terms & Conditions of Sale: Property will be sold free and clear of all monetary liens.  In order to register to bid, all prospective bidders must present a cashier's check in the amount of $100,000  made payable to "Salvatore LaMonica, Trustee".  Please download the complete Terms and Condition of Sale.
Have Questions? Get In Touch
You must be logged in to send an Auction Inquiry.

Salvatore LaMonica, Chapter 7 Trustee
LaMonica Herbst & Maniscalco, LLP, Attorneys for the Chapter 7 Trustee
Richard B. Maltz, Auctioneer DCA# 1240836
David A. Constantino, Auctioneer DCA# 1424944
Richard B. Maltz, Licensed Real Estate Broker
Phone (516) 349-7022 Fax (516) 349-0105
The Lease is being sold "AS IS" "WHERE IS", "WITH ALL FAULTS", without any representations, covenants, guarantees or warranties of any kind or nature, and free and clear of any liens, claims, or encumbrances of whatever kind or nature, with such liens, if any, to attach to the proceeds of sale in such order and priority as they existed immediately prior to the entry of the Orders for relief against the Debtors. All Bidders acknowledge that they have had the opportunity to review and inspect the Lease, demised premises, the state of title thereof and laws, rules and regulations applicable thereto, and will rely solely thereon and on their own independent investigations and inspection of the Lease in making their bids. Neither Maltz, the Trustee, the Attorney for the Trustee or any of their collective representatives makes any representations or warranties with respect to the permissible uses of the Lease.  All Bidders acknowledge that they have conducted their own due diligence in connection with the Lease and are not relying on any information provided by Maltz, the Trustee, the Attorney for the Trustee, or their professionals.  The information contained herein was derived from sources deemed reliable, but is not guaranteed.  Most of the information provided has been obtained from third-party sources and has not been independently verified.  It is the responsibility of the Buyer to determine the accuracy of all components of the sale and the Lease.  Each potential bidder is responsible for conducting his or her own independent inspections, investigations, inquiries, and due diligence concerning the Vehicle.  All prospective bidders are urged to conduct their own due diligence prior to participating in the Public Auction.  Bid rigging is illegal and suspected violations will be reported to the Department of Justice for investigation and prosecution.