Corner Development Site

Bankruptcy Auction
Auction
February 9, 2017 at 11:00 am
Property Location
961-969 Westchester Avenue
Bronx, NY 10459
Auction Location
NY LaGuardia Airport Marriott
102-05 Ditmars Boulevard
East Elmhurst, NY 11369
Photo Gallery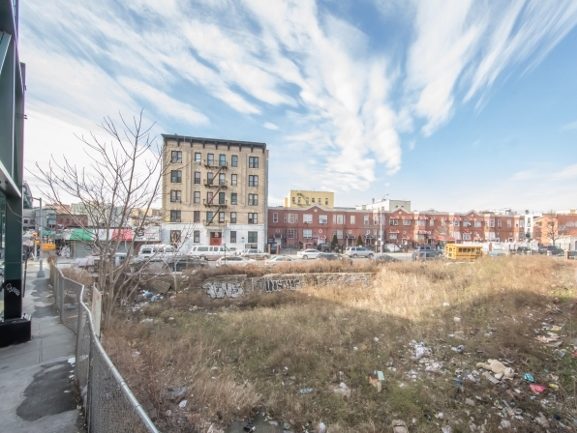 Details
Bankruptcy Auction – United States Bankruptcy Court Southern District of New York
In Re: 961-969 Westchester Avenue Corp. – Case # 15-12869 (SCC)
24,000+ Sq Ft Buildable Corner Development Site
Details:
961-969 Westchester Avenue, Bronx, NY 10459
Borough: Bronx   Block: 2715   Lot: 1
Across from 180,000+ Mixed-Use Redevelopment Site (Including Fresh Start Supermarket & 100+ Residential Units)
Flourishing Retail District: Banco Popular, Burger King, Checkers, Chase, Dollar Tree, Gamestop, McDonald's, Planet Fitness, Sprint, Subway & Walgreens
Only 1 Block from the Intervale Avenue Subway Platform (2 & 5 Trains)
Less than 1 Mile to I-278 (Bruckner Expressway)
1 Mile to Bronx-Lebanon Hospital
Lot Size: 7,006  Sq Ft
Lot Dimensions: 100.00′ x 150.08′ x 17.86′ x 113.32′ (Irregular)
100′ Frontage on Westchester Avenue
150′ Frontage on Kelly Street
Zoning: R7-1 with C2-4 Commercial Overlay
Residential FAR: 3.44 (24,100 Sq Ft Buildable)
Annual Real Estate Taxes:  $23,022
$1,200,000 Minimum Bid
---
Inspection/Viewing: Vacant Land – Inspect Freely.
Auction Date & Time:  Thursday, February 9, 2017 at 11:00 am.  Registration begins at 10:00 am.
Auction Location:  NY LaGuardia Airport Marriott Hotel, 102-05 Ditmars Boulevard, East Elmhurst, NY 11369.  A $1,180,000 bid has been accepted subject to higher bids, with the next bid in the minimum amount of $1,200,000.  Online & absentee bidding available with registration at least 5 business days prior to auction, please call for details.
Terms & Conditions of Sale: Property will be sold free and clear of all monetary liens.  In order to register to bid, all prospective bidders must present a cashier's check in the amount of $90,000 made payable to "Leo Fox, as Attorney.".  Please download the complete Terms and Conditions of Sale.
Buyer's Premium: A six (6%) percent Buyer's Premium will be added to the Successful Bidder's high bid to determine the contract price to be paid by the Successful Bidder.
Buyer Broker Participation: A two (2%) percent commission will be paid to any properly licensed Buyer Broker who registers a successful buyer in accordance with the Buyer Broker guidelines.  Please download the Broker Participation form for details.
Have Questions? Get In Touch
You must be logged in to send an Auction Inquiry.

Leo Fox, Attorney for the Chapter 11 Debtor and Debtor in Possession
Richard B. Maltz, Auctioneer
David A. Constantino, Auctioneer
Richard B. Maltz, Licensed Real Estate Broker
Phone (516) 349-7022 Fax (516) 349-0105