Autographed Guitars

Court Ordered Auction
Auction
October 26, 2016 at 12:00 pm
Auction Location
39 Windsor Place
Central Islip, NY 11722
Photo Gallery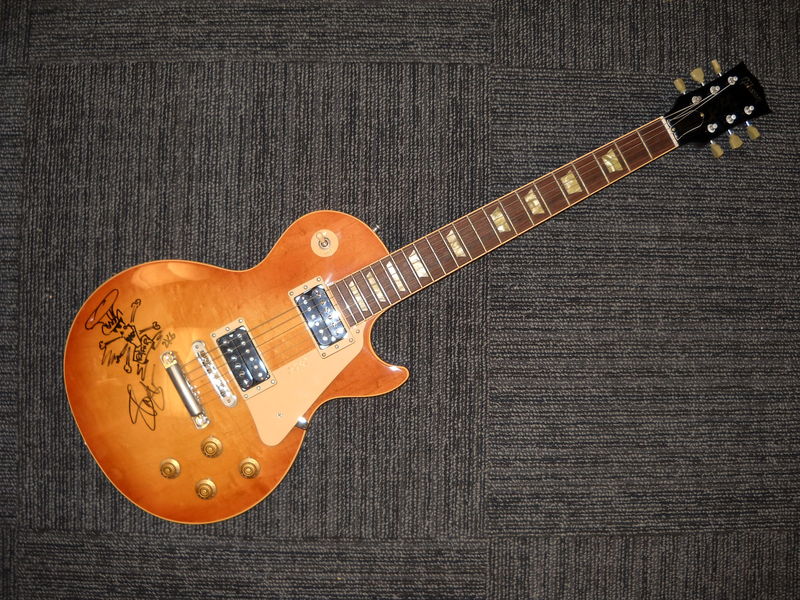 Details
Court-Ordered & Consignment Auction
AUTOGRAPHED & VINTAGE GUITARS
Asset List:
Gibson Les Paul Classic 1960 Reissue signed by Slash
Epiphone "The Boneyard" signed by Joe Perry
Taylor 110 Acoustic signed by Dave Matthews Band
Fender Amnesty International Limited Edition Acoustic signed by David Bowie
Yamaha F-335 TBS Acoustic signed by Chrissie Hynde, Shirley Manson and Others
Ibanez Joe Satriani Edition signed by Chickenfoot
Dean Dave Mustaines Signature V signed by Dave Mustaine
Ibanez G10 signed by Alice in Chains
Fender MIM Stratocaster signed by Train
Lyon by Washburn Limited Edition Paul Stanley Design sined by Paul Stanley
Paul Reed Smith PRS SE Custom signed by Jane's Addiction
Squier by Fender Stratocaster Standard signed by Matchbox Twenty
Fender Jazz Bass Special signed by Duff McKagan
Epiphone Special signed by Third Eye Blind
ESP LTD signed by Kirk Hammett
Squier by Fender Stratocaster signed by Blink 182
Lyon by Washburn signed by Brian Bell
Epiphone Special II signed by Journey
Fender Precision Bass signed by Sting
Martin DXM Acoustic signed by James Taylor
Fender Telecaster Highway One sined by Sheryl Crow
ESP LTD signed by Metallica
Squier by Fender Telecaster Affinity – not signed
Guild Custom "Solid-Body" Acoustic signed & played by Johnny Rzeznik
Epiphone Limited Edition Slash Appetite Les Paul – Signed by Slash
Fender Jazz Bass – signed by John Entwistle
Gibson Hummingbird Acoustic signed by Tom Petty
Epiphone Les Paul Custom signed by Zakk Wylde
Epiphone Blackbird signed by Nikki Sixx
Washburn RR150 signed by Sammy Hagar
Epiphone Special SG signed by Red Hot Chili Peppers
Fender Stratocaster w/ 20+ Signatures – New Orleans Music Festival
Original 1964 Gretsch Corvette w/ Dual Pickups & Vibrato
Original 1960's Harmony H1215 Archtone
Early 1970's Gibson ES-175D – Rare Solid Walnut Finish
1977 Gibson Les Paul Standard – Wine Red Finish
---
Inspection: Morning of the Auction from 9:00 am – 12:00 noon.
Auction Date & Time:  Wednesday, October 26th at 12:00 noon.
Auction Location:  Auctioneer's Gallery, 39 Windsor Place, Central Islip, NY 11722.
Deposit Requirements:   A 25% deposit in cash or certified funds will be required upon knockdown of bid.
Have Questions? Get In Touch
You must be logged in to send an Auction Inquiry.

Richard B. Maltz, Auctioneer
David A. Constantino, Auctioneer
Phone (516) 349-7022 Fax (516) 349-0105
These assets are being sold on an "AS IS, WHERE IS" basis, and no warranty or representation, either expressed or implied, concerning the property is made by the Seller, Auction Company or any of their Agents.  The information contained herein was derived from sources deemed reliable but is not guaranteed.  Most of the information provided has been obtained from third-party sources and has not been independently verified.  All prospective bidders are urged to conduct their own due diligence prior to participating in the Public Auction Sale.  Maltz Auctions, Inc., d/b/a Maltz Auctions is exclusively acting as the marketing agent