Ambulances & EMS Equipment

Bankruptcy Auction
Auction
April 20, 2016 at 11:00 am
Auction Location
25 14th Street
Brooklyn, NY 11215
Photo Gallery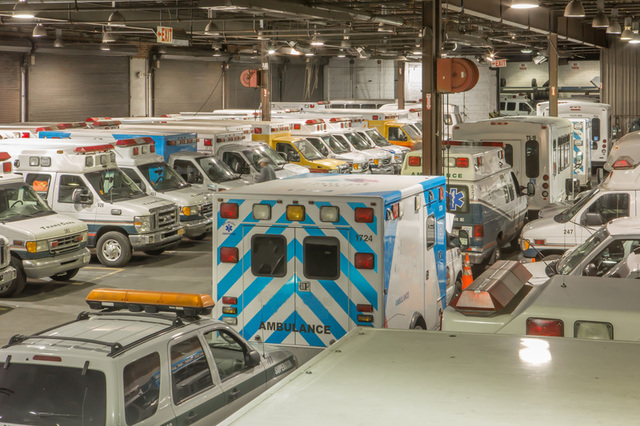 Details
Bankruptcy Auction – United States Bankruptcy Court Southern District of New York
In Re: TRANSCARE CORPORATION, et al., – Case # 16-10407 (SMB) Jointly Administered
Complete Inventory of Multi-State Medical Transportation/EMS Business
110+ Ambulances/Vans/Buses & 1,000+ EMS Support Devices
Details:
Assets of Multi-State Medical Transportation/EMS Business
Assets Sold Individually or in Small Groupings
90+ Type I, Type II & Type III Ambulances (1998 – 2013's)

25+ Invalid Coaches, Passenger Buses, Wheelchair Accessible Vans, Full Size Vans & SUVs (1996 – 2015's)

28 MDT's
Radios & Communication Equipment

1,500+ Pieces of Ancillary Ambulance/EMS Support Equipment:
   ALS/BLS Kits
   Capnographs
   Defibrillators
   IV Pumps
   LSUs
   Monitors
   Stair Chairs
   Stretchers, Scoops, Boards & Splints
   Ventilators
   Wheelchairs
   And Much More…
Communication Devices:
   Mobile Data Terminals with Voice Radios
   XT 5000 Motorola Portable Radios
   Sonim Phones
Office Equipment:
   Servers
   Computers
   Office Furniture
Miscellaneous:
   EMT Training Equipment
   Mechanical Maintenance Equipment, Tools & Parts
   Medical Supplies
   Telecom Equipment
Bulk Sale of Auto Repair Shop Assets:
   The Inventory & Equipment Located at 295 Stanley Street, Brooklyn, NY will be Sold in Bulk on April 20th at 11:00 am from 25 14th Street, Brooklyn, NY.
   Assets Consist of Auto Repair Parts & Equipment
   This Location will be Available for Viewing Wednesday, April 20th from 9:00 am – 10:00 am.
Additional On-Site Auctions will Take Place in:
   Mount Vernon, NY – May 4th
   Poughkeepsie, NY – May 6th
   Monroeville, PA – May 11th
   Baltimore, MD – May 12th
---
Viewing:  Wednesday, April 20th from 9:00 am – 11:00 am.  Each vehicle will be started and turned off in consecutive lot number order, beginning at 9:00 am.
Auction Date & Time:  Wednesday, April 20th at 11:00 am.
Auction Location:  25 14th Street, Brooklyn, NY 11215.
Terms & Conditions of Sale:  Assets sold in "as-is" condition & free and clear of all liens. A 25% deposit in cash or certified funds is required from all bidders upon knockdown of bid.  Any absentee or online bidders must post a deposit equal to 25% of maximum bid amounts at least 4 business days prior to auction.  The assets will be sold subject to the complete Terms & Conditions of Sale that are subject to court approval.
Buyer's Premium:  A 12.5% Buyer's Premium will be added to the Successful Bidder's high bid to determine the contract price to be paid by the Successful Bidder.
Have Questions? Get In Touch
You must be logged in to send an Auction Inquiry.

Salvatore LaMonica, Chapter 7 Trustee
LaMonica Herbst & Maniscalco, LLP, Attorneys for the Chapter 7 Trustee
Richard B. Maltz, Auctioneer
David A. Constantino, Auctioneer
Richard B. Maltz, Licensed Real Estate Broker
Phone (516) 349-7022 Fax (516) 349-0105
The Trustee Reserves the right to withdraw any items for sale prior to the auction. Asset List Subject to Change.
The Assets are being sold "AS IS" "WHERE IS", "WITH ALL FAULTS", without any representations, covenants, guarantees or warranties of any kind or nature, and free and clear of any liens, claims, or encumbrances.  By delivering their respective Deposits, all Bidders acknowledge that they have had the opportunity to review and inspect the Assets and will rely solely on their own independent investigations and inspections of the Assets in making their bids. Neither Maltz, the Trustee, the Attorney for the Trustee nor any of their collective representatives makes any representations or warrantees with respect to the use or condition of the Assets.  All Bidders acknowledge that they have conducted their own due diligence in connection with the Assets and are not relying on any information provided by Maltz, the Trustee, the Attorney for the Trustee, or their professionals.  All prospective bidders are urged to conduct their own due diligence prior to participating in the Public Auction.  Bid rigging is illegal and suspected violations will be reported to the Department of Justice for investigation and prosecution.