97,000+ SQ FT DEVELOP SITE

Auction Postponed
Auction
January 29, 2020 at 10:00 am
Property Location
Dupont Street
Franklin Street
Clay Street
Brooklyn, NY
Auction Location
360 Lexington Ave
Suite 1200
New York, NY


Photo Gallery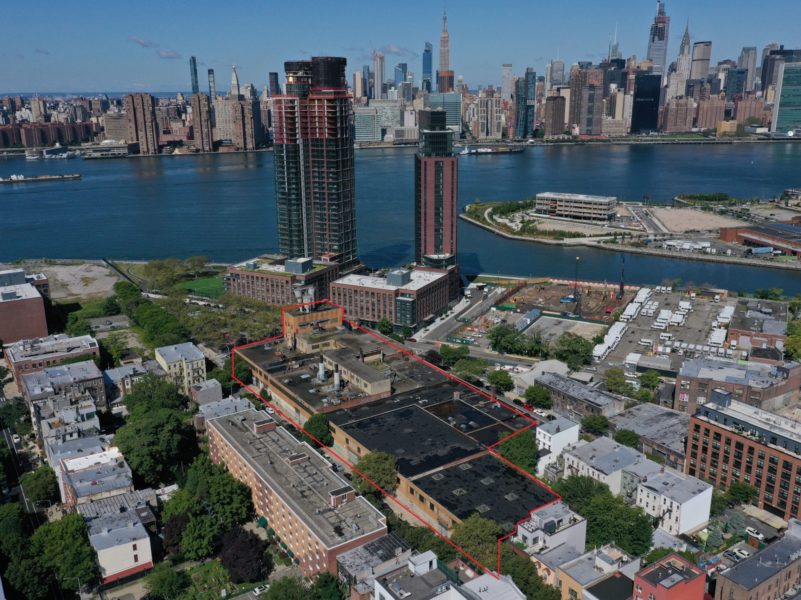 Details
Mezzanine Foreclosure Auction
97,000+ Sq Ft Corner Development Site
FAR Provides for up to 332,580 Sq Ft Development
AUCTION POSTPONED
Details:
Spectacular 97,000+ Sq Ft Corner Block-Through Development Site in Booming Greenpoint, Brooklyn, NY

The Property is comprised of 10 contiguous tax lots which total 97,939 square feet and are located at the intersection of Dupont Street, Clay Street, and Franklin Street in the Greenpoint neighborhood of Brooklyn. The individual tax lots range from 2,500 square feet to 23,439 square feet and are located less than a mile from the Greenpoint Avenue subway station, the Long Island Railroad, and the India Street / Greenpoint East River Ferry landing. After the rezoning of the area in 2005, the Property can be developed up to a FAR of 3.40 and total zonable square footage of 332,580.

BY VIRTUE OF DEFAULT under that certain Mezzanine Promissory Note and that Certain Mezzanine Agreement dated August 11, 2017 (the "Mezz Agreement") as secured by that certain Ownership Interests Pledge and Security Agreement dated August 11, 2017 (the "Pledge") pledging the ownership interest (the "Pledged Interests") as defined in the Pledge and Security Agreement, duly executed by Clay Riverview LLC (the "Pledgor"), and in accordance with its rights as holder of the security, Dupont Street 2 LLC (the "Secured Party") by virtue of possession of the Share Certificate held in accordance with Article 8 of the Uniform Commercial Code of the State of New York (the "Code") and by a UCC1 Filing Statements in favor of Secured Party all in accordance with Article 9 of the Code, Richard B. Maltz (DCA # 1240836), Auctioneer or David A. Constantino (DCA# 1424944), Auctioneer, will conduct a public sale, consisting of the Pledged Interests (as set forth in Schedule A below), on January 17, 2020 at 10:00 am at the office of Kriss & Feuerstein, located at 360 Lexington Avenue, Suite 1200, New York, New York in satisfaction of an indebtedness in the approximate amount of $7,827,154.55, including principal, interest on principal and reasonable fees and costs, plus default interest through January 17, 2020, subject to open charges and all additional costs, fees and disbursements permitted by law.  The Secured Party reserves the right to credit bid.
Subject to senior indebtedness in the unpaid principal amount of $28,000,000 and payoff amount through 1/17/2020 in the amount of $45,189,183.71.

280 Franklin Street, Brooklyn, NY

 a/k/a Block: 2487; Lot: 1

93, 57 and 55 Dupont Street, Brooklyn, NY 11222 

a/k/a Block: 2487; Lots: 57, 72, 78

10, 14, 22, 26, 30 and 32 Clay Street, Brooklyn, NY

 a/k/a Block: 2487; Lots: 10, 12, 17, 18, 20, 21
---
Auction Date & Time: AUCTION POSTPONED.
Auction Location: KRISS & FEUERSTEIN LLP, 360 Lexington Avenue, Suite 1200, New York, NY.
Terms & Conditions of Sale:  See attached terms of sale for details.
Have Questions? Get In Touch
You must be logged in to send an Auction Inquiry.

KRISS & FEUERSTEIN LLP, Attorneys for the Secured Party
Richard B. Maltz, Auctioneer
David A. Constantino, Auctioneer
Richard B. Maltz, Licensed Real Estate Broker
Phone (516) 349-7022 Fax (516) 349-0105
These assets are being sold on an "AS IS, WHERE IS" basis, and no warranty or representation, either expressed or implied, concerning the asset is made by the Seller, Auction Company or any of their Agents. Maltz is acting exclusively as marketing agent for the Sellers.  The information contained herein was derived from sources deemed reliable, but is not guaranteed.  Most of the information provided has been obtained from third-party sources and has not been independently verified.  It is the responsibility of the Buyer and/or Buyer's Broker to determine the accuracy of all components of the sale and asset.  Each potential bidder is responsible for conducting his or her own independent inspections, investigations, inquiries, and due diligence concerning the Property, including without limitation, environmental and physical condition of the asset.  All prospective bidders are urged to conduct their own due diligence prior to participating in the Public Auction.
Bid rigging is illegal and suspected violations will be reported to the Department of Justice for investigation and prosecution.