4,100+ Sq Ft Retail Building

Foreclosed Property Auction
Auction
June 4, 2015 at 11:00 am
Property Location
675 Broadway
Massapequa, NY 11758
Photo Gallery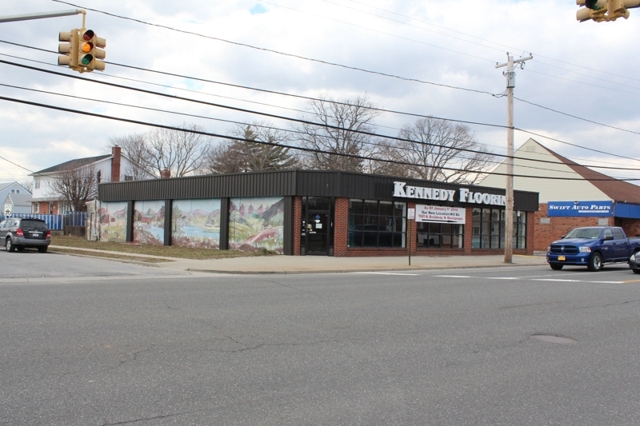 Details
Foreclosed Property Auction
4,100+ Sq Ft Retail Building at Traffic Light Intersection
Corner Lot on Heavily Traveled Road

Details:
675 Broadway, Massapequa, NY 11758
Ideally Located on Corner Lot at Traffic Light Intersection of Broadway & Rhode Island Avenue
4,110 Sq Ft Building + 2,055 Sq Ft Usable Basement
9,434 Sq Ft Lot (106′ x 89′)
106′ Frontage on Broadway
Centrally Located Between Southern State Parkway & Sunrise Highway
4 Minutes to Each, Massapequa & Massapequa Park LIRR Train Stations
On-Site & Street Parking
Prime Investor or User Opportunity
Year Built: 1949
Section: 52   Block: 143   Lot: 3257
Annual Real Estate Taxes: $31,991.64
Currently Vacant & Delivered Vacant at Closing
Seller Financing Available
Previously Listed at $995,000
$310,000 Opening Bid
---
Inspection/Viewing:  Wednesday, May 27th & Monday, June 1st from 3:00 pm – 5:00 pm.
Auction Date & Time:  Thursday, June 4th at 11:00 am.  Registration begins at 10:00 am.
Auction Location: Auctioneer's Gallery, 39 Windsor Place, Central Islip, NY 11722.  Online/Absentee Bidding Available with Registration at Least 48 Hours Prior to Auction.
Terms & Conditions of Sale: Property will be sold free & clear of all liens, claims & encumbrances.  In order to register to bid, all prospective bidders must present a cashier's check in an amount of $31,000 made payable to "Maltz Auctions, Inc.".  Closing must occur within 45 days after the auction. Successful Bidder shall be granted a 30-day extension to close if he/she posts an additional non-refundable 10% deposit.  Subject to sale prior to auction as pre-auction offers will be considered.  Please download the complete Terms and Conditions of Sale.
Seller Financing:  Seller shall offer a secured first mortgage to any successful bidder on the property under the following general outline of terms: 50% Minimum Down Payment (Plus Buyer's Premium), 8% Annual Interest Rate, Monthly Interest-Only Payments, 3-Year Term.  Sample mortgage and note documents available upon request.
Buyer's Premium:  An eight percent (8%) Buyer's Premium will be added to the Successful Bidder's high bid to determine the contract price to be paid by the Successful Bidder.
Buyer Broker Participation:  A two percent (2%) commission will be paid to any properly licensed Buyer Broker who registers a successful buyer in accordance with the Buyer Broker guidelines.  Please download the Broker Participation form for details.
Have Questions? Get In Touch
You must be logged in to send an Auction Inquiry.

David R. Maltz, Auctioneer DCA# 762794
Richard B. Maltz, Auctioneer DCA# 1240836
David A. Constantino, Auctioneer DCA# 1424944
Richard B. Maltz, Licensed Real Estate Broker
Phone (516) 349-7022  Fax (516) 349-0105
This Property is being sold on an "AS IS, WHERE IS" basis, and no warranty or representation, either expressed or implied, concerning the Property is made by the Seller, Auction Company or any of their Agents.  The information contained herein was derived from sources deemed reliable, but is not guaranteed.  Most of the information provided has been obtained from third party sources and has not been independently verified.  It is the responsibility of the Buyer and/or Buyer's Broker to determine the accuracy of all components of the sale and Property.    Each potential bidder is responsible for conducting his or her own independent inspections, investigations, inquiries, and due diligence concerning the Property, including without limitation, environmental and physical condition of the Property.  All prospective bidders are urged to conduct their own due diligence prior to participating in the Public Auction.
Bid rigging is illegal and suspected violations will be reported to the Department of Justice for investigation and prosecution.