35+ Acre Sports Complex

Bankruptcy Auction
Auction
October 30, 2018 at 11:00 am
Property Location
120 State School Road
Warwick, NY 10990
Auction Location
US Bankruptcy Court
355 Main Street
Poughkeepsie, NY 12601
Photo Gallery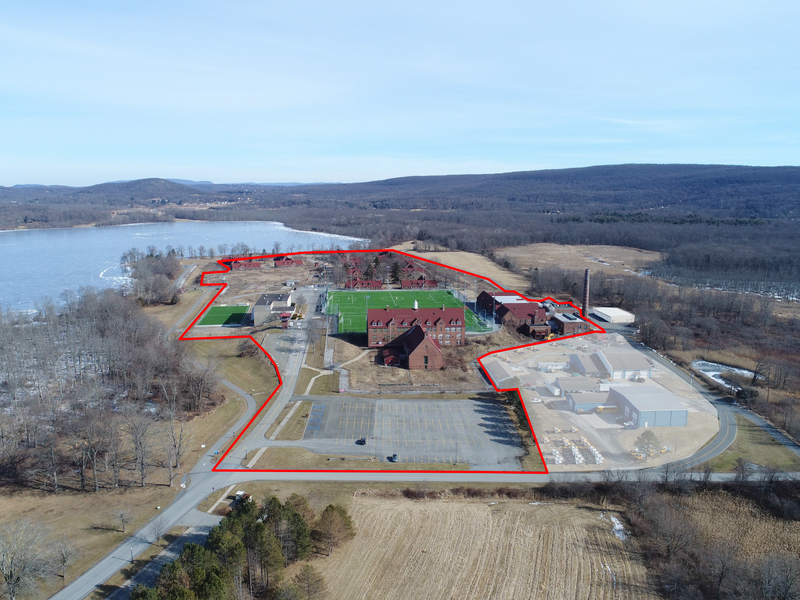 Details
Bankruptcy Auction – United States Bankruptcy Court Southern District of New York Poughkeepsie Division
In Re: The Warwick Yard LLC. – Case # 17-36103-cgm
Turn-Key Sports Complex on 35+ Acres – Former Prison
2 Indoor Heated Turf Fields, 2 Outdoor Fully Lighted Turf Fields & 1 "Dome" Turf Field
Details:
120 State School Road, Warwick, NY 10990

Former Prison – Millions Invested Converting to Sports Facility

18 Brick/Masonry Buildings Across 35+ Acres 

Property Borders Wickham Woods Town Park

Overlooks Wickham Lake (Great Views & Easily Accessible)

Near Mt. Peter Ski Area & Prestigious Village of Tuxedo Park

Ideal Potential Uses Include Sports Complex/Resort with Overnight Accommodations or Summer Camp
Field House (Converted/Renovated):
Upper Levels:

60′ x 96′ Turf Arena

   Fully Netted Arena

   Substantial Lighting

   Heated

   20'6″ Ceiling Clearance

   Bleachers

20′ x 48′ Fully Equipped Batting Cage Area

   Adjacent to Main Arena

   20'6″ Ceiling Clearance

   Covered with Turf

   Heated

Vending/Concession Booth

Public Men's & Women's Restrooms

Staff Restroom

Storage Area

Lower Levels:

Handicapped Accessibility to Lower Level and Arena Floor

102′ x 50′ Turf Arena

   Fully Netted Arena

   Substantial Lighting (Large Windows & Overhead Lighting)

   Heated Arena and Spectator Stands

   Raised Bleacher Style Seating for 100+ Spectators

   20′ Ceiling Clearance

47′ x 34′ Dividable Party/Event Room with Kitchenette (10′ Ceilings)

Locker Rooms Bathrooms and Showers

Storage and Utility Rooms

Field House Heated by Propane (800 Gallon Above Ground Tank)
Outdoor Fields:
Fully Lighted with (13) Musco Light Structure Green System Field Lights (Lights Currently Inoperative)

Lighting Believed to be able to Run off Generator System with 11,000 Gallon Tank Estimated to Consume 6-8 Gallons/Hour

Field "A"

   200′ x 300′ Artificial Turf Field

   Configured for Lacrosse, Soccer or (1) Baseball/Softball/T-Ball Diamond w/Caged Backstop & Bench/Viewing Area

 Field "B"

   225′ x 330′ Artificial Turf Field

   Configured for Lacrosse, Soccer or (3) Baseball/Softball/T-Ball Diamonds w/ Caged Backstops & Bench/Viewing Areas
Domed Field:
100'x 230′ Artificial Turf Field

Dome Pressure Regulation Systems and Generator in Place

Brand New Dome Structure with Entrance on Premises (Never Used)

Electrical Upgrade Required to Operate (Currently 280 Amp, 460 Required)
Additional Information:
(17) Ancillary Structures

    (1) Main 3-Story Facility with Classrooms, Stage and Religious Service Rooms

    (14) 2-Story Housing Units

    (1) Power Plant (No Longer Utilized)

    (1) Overview Tower

Electric Entrance Gate

Fully Fenced/Secure Property

Property Class: 550 – Outdoor Sports

Tax Map ID#: 46-1-34.122

Annual Real Estate Taxes (2017): $48,044.87
---
Viewings:  Available by appointment, please call for details.
Auction Date & Time:  Tuesday, October 30, 2018 at 11:00 am.  Registration begins at 10:00 am.
Auction Location:  United States Bankruptcy Court, 355 Main Street, Poughkeepsie, NY 12601.
Terms & Conditions of Sale: Property will be sold free and clear of all monetary liens.  In order to register to bid, all prospective bidders must present a cashier's check in the amount of $175,000 made payable to "Marianne T. O'Toole, Chapter 7 Trustee".   Please download the complete Terms and Conditions of Sale.
Have Questions? Get In Touch
You must be logged in to send an Auction Inquiry.

Marianne T. O'Toole, Chapter 7 Trustee
LaMonica Herbst & Maniscalco, LLP, Attorneys for the Chapter 7 Trustee
Richard B. Maltz, Auctioneer
David A. Constantino, Auctioneer
Richard B. Maltz, Licensed Real Estate Broker
Phone (516) 349-7022 Fax (516) 349-0105
The Real Property is being sold "AS IS" "WHERE IS", "WITH ALL FAULTS," without any representations, covenants, guarantees or warranties of any kind or nature whatsoever, and free and clear of any and all interests including, but not limited to, liens, claims, encumbrances, interests, judgments and/or mortgages, or adverse claims to title, of whatever kind or nature (collectively, "Interests"), with such Interests, if any, to attach to the proceeds of sale in such order and priority as they existed immediately prior to the entry of the Order for Relief against the Debtor, and subject to, among other things: (a) any state of facts that an accurate survey may show; (b) any covenants, restrictions and easements of record; (c) any state of facts a physical inspection may show; (d) any building or zoning ordinances or other applicable municipal regulations and violations thereof; and (e) environmental conditions. By delivering their respective Deposits, all Bidders acknowledge that they have had the opportunity to review and inspect the Real Property, the state of title thereof and laws, rules and regulations applicable thereto, and will rely solely thereon and on their own independent investigations and inspections of the Real Property in making their bids. Neither Maltz, the Trustee, the Attorney for the Trustee nor any of their collective representatives make any representations or warrantees with respect to the permissible uses of the Real Property including, but not limited to, the zoning of the Real Property. All Bidders acknowledge that they have conducted their own due diligence in connection with the Real Property and are not relying on any information provided by Maltz, the Trustee, the Attorney for the Trustee, or their professionals. The information contained herein was derived from sources deemed reliable, but is not guaranteed.  Most of the information provided has been obtained from third-party sources and has not been independently verified.  It is the responsibility of the Buyer to determine the accuracy of all components of the sale and Real Property.  Each potential bidder is responsible for conducting his or her own independent inspections, investigations, inquiries, and due diligence concerning the Property, including without limitation, environmental and physical condition of the Real Property.  All prospective bidders are urged to conduct their own due diligence prior to participating in the Public Auction.  Bid rigging is illegal and suspected violations will be reported to the Department of Justice for investigation and prosecution.