2 BR Oceanview Co-Op

Bankruptcy Auction
Auction
March 14, 2019 at 11:00 am
Property Location
2925 West 5th Street
Unit 21B
Brooklyn, NY 11224
Auction Location
NY LaGuardia Airport Marriott Hotel
102-05 Ditmars Boulevard
East Elmhurst, NY 11369
Photo Gallery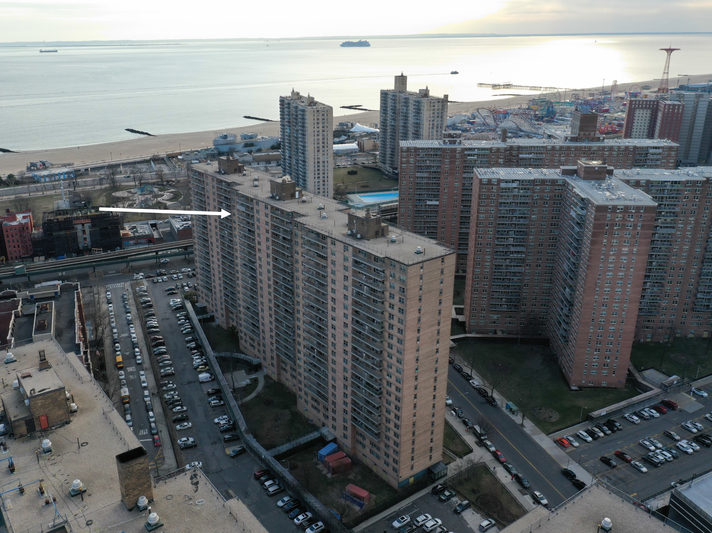 Details
Bankruptcy Auction – United States Bankruptcy Court Eastern District of New York
In Re: David Roizin, Case # 13-46461-nhl – In Re: Rubin Roizin, Case # 13-46462-nhl
Two Bedroom Oceanview Co-Op 
Description:
2925 West 5th Street, Unit 21b, Coney Island/West Brighton Beach, Brooklyn, NY 11224
Located within Trump Village, Section 3
Large Terrace with Beach & Ocean Views
2 Bedrooms (Master with Walk-in Closet)
1 Bathroom
Kitchen
Less than a Half Mile to

Coney Island Beach/Boardwalk, Luna Park
New York Aquarium
Riegelmann Boardwalk
W. 8th St MTA Station (F & Q Train)

Building Amenities/Features:
24-Hour Security
Newly Constructed Playground
Pet-Friendly
Monthly Parking ($50/Month and Subject to Availability)
Storage Room
Fitness Facilities
Recreation Room
Community Rooms Available for Rent
Onsite Laundry Facility and Dry Cleaner
Guest/Pool Locker Room
24/7 Concierge
Additional Information:
Monthly Maintenance Fees (Including Capital Assessment): $808.80 (Includes Gas & Electric)
Monthly Capital Assessment Through 2028: $86.58
Buyer Responsible for 20% Flip Tax of the Purchase Price
Currently Vacant and Delivered Vacant at Closing
---
Viewings: Available by Appointment ONLY on Mondays, March 4th & 11th.  Please Call to Schedule.
Auction Date & Time: Thursday, March 14, 2019 at 11:00 am.  Registration begins at 9:30 am.
Auction Location: LaGuardia Airport Marriott Hotel, 102-05 Ditmars Boulevard, East Elmhurst, NY 11369.
Terms & Conditions of Sale: Property will be sold free and clear of all monetary liens.  In order to register to bid, all prospective bidders must present a cashier's check in the amount of $30,000 made payable to "Alan Nisselson, as Chapter 7 Trustee".  Please download the complete Terms and Conditions of Sale.
Have Questions? Get In Touch
You must be logged in to send an Auction Inquiry.

Alan Nisselson, Chapter 7 Trustee
Windels Marx Lane & Mittendorf, LLP, Attorneys for the Chapter 7 Trustee
Richard B. Maltz, Auctioneer
David A. Constantino, Auctioneer
Richard B. Maltz, Licensed Real Estate Broker
Phone (516) 349-7022 Fax (516) 349-0105
The Real Property is being sold "AS IS" "WHERE IS", "WITH ALL FAULTS", without any representations, covenants, guarantees or warranties of any kind or nature, and free and clear of any liens, claims, or encumbrances of whatever kind or nature, with such liens, if any, to attach to the proceeds of sale in such order and priority as they existed immediately prior to the Closing, and the sale of the Real Property is subject to, among other things (a) any state of facts that an accurate survey may show; (b) any covenants, restrictions and easements of record; (c) any state of facts a physical inspection may show; (d) any building or zoning ordinances or other applicable municipal regulations and violations thereof; and (e) environmental conditions. By delivering their respective Deposits, all Bidders acknowledge that they have had the opportunity to review and inspect the Real Property, the state of title thereof and laws, rules and regulations applicable thereto, and will rely solely thereon and on their own independent investigations and inspections of the Real Property in making their bids. Neither Maltz, the Trustee nor any of their collective representatives makes any representations or warrantees with respect to the permissible uses of the Real Property including, but not limited to, the zoning of the Real Property.  All Bidders acknowledge that they have conducted their own due diligence in connection with the Real Property and are not relying on any information provided by Maltz, the Trustee, or their professionals.  The Real Property will be sold subject to any and all violations or conditions requiring corrective action.  The information contained herein was derived from sources deemed reliable, but is not guaranteed.  Most of the information provided has been obtained from third party sources and has not been independently verified.  It is the responsibility of the Buyer to determine the accuracy of all components of the sale and Property.  Each potential bidder is responsible for conducting his or her own independent inspections, investigations, inquiries, and due diligence concerning the Property, including without limitation, environmental and physical condition of the Property.  All prospective bidders are urged to conduct their own due diligence prior to participating in the Public Auction.  Bid rigging is illegal and suspected violations will be reported to the Department of Justice for investigation and prosecution.