139 NYC Taxi Medallions

Bankruptcy Auction
Auction
June 14, 2018 at 11:00 am
Auction Location
Sheraton LaGuardia East
135-20 39th Avenue
Flushing, NY 11354
Photo Gallery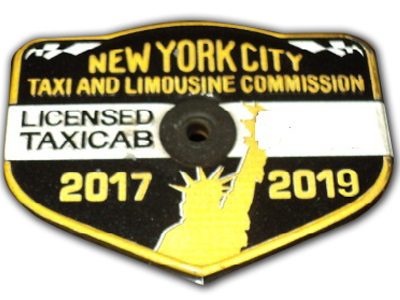 Details
Bankruptcy Auction – United States Bankruptcy Court Eastern District of New York
In Re: Wolverine Taxi LLC, et al., Wrestler Taxi LLC, et al., Brownie Taxi LLC, et al., Kabbalah Taxi Inc, et al. – Jointly Administered
139 NYC Taxi Medallions 
Details:
Gregory Messer, Esq., was appointed as Chapter 7 Trustee for the Debtors' jointly administered bankruptcy estates. Each Debtor entity owns two or three Medallions for an aggregate of 139 Medallions issued by the New York City Taxi and Limousine Commission (TLC).
87 Unrestricted Medallions, 20 Alternative Fuel/Hybrid Medallions, and 32 Handicap Medallions
The Medallions will be Sold in Six Pools of 20 Medallions and One Pool of 19 Medallions
The First 6 Pools Shall Consist of 12 Unrestricted, 3 Alternative Fuel/Hybrid & 5 Handicap Medallions
The Last Pool Shall Consist of 15 Unrestricted, 2 Alternative Fuel/Hybrid & 2 Handicap Medallions
The Trustee has the Authority to sell up to 139 Medallions, with a Minimum of 20 Medallions being Sold in this Auction
Bidders May Present Bids on One, Multiple or All Packages
UPDATE: APPROVED, THE TRUSTEE HAS ACCEPTED A STALKING HORSE BID ON 131 MEDALLIONS. Updates Below:
   There will two pools of Medallions:
      #1) 131 Medallions – 79 Unrestricted, 20 Alternative Fuel/Hybrid & 32 Handicap
      This Pool will be sold in Bulk Only
      Stalking Horse Bid: $170,000/Medallion or $22,270,000
      Next Acceptable Bid: $23,160,800
      #2) 8 Unrestricted Medallions
      This Pool will be sold in Bulk Only
      Minimum Bid: $250,000/Medallion or $2,000,000
---
Auction Date & Time: Thursday, June 14, 2018, at 2:00 pm.  Registration commences at 1:00 pm.
Auction Location:  (NEW VENUE) Sheraton LaGuardia East Hotel, 2nd Floor/Ballroom Level, 135-20 39th Avenue, Flushing, NY 11354.
Terms & Conditions of Sale: Medallions are sold free and clear of all liens, claims and encumbrances.  All prospective bidders must include a cashier's check in the amount of $20,000 per Medallion made payable to "Gregory Messer, Chapter 7 Trustee".  Within 48 hours following the auction, the successful bidders are required to post a total deposit of 20% of the high bid. Please download the complete Terms & Conditions of Sale.
Have Questions? Get In Touch
You must be logged in to send an Auction Inquiry.

Gregory Messer, Chapter 7 Trustee
LaMonica Herbst & Maniscalco, LLP, Attorneys for the Chapter 7 Trustee
Richard B. Maltz, Auctioneer
David A. Constantino, Auctioneer
Richard B. Maltz, Licensed Real Estate Broker
Phone (516) 349-7022 Fax (516) 349-0105
By delivering their respective Offers and/or Deposits, all Bidders acknowledge that they have had the opportunity to review and inspect the Medallions, the state of title thereof and laws, rules and regulations applicable thereto, and will rely solely thereon and on their own independent investigations and inspections of the Medallions in making their bids. Neither Maltz, the Seller nor any of their collective representatives makes any representations or warranties with respect to the permissible uses, quantity or condition of the Medallions.  All Bidders acknowledge that they have conducted their own due diligence in connection with the Medallions and are not relying on any information provided by Maltz, the Seller, or their professionals.  The information contained herein was derived from sources deemed reliable, but is not guaranteed.  Most of the information provided has been obtained from third party sources and has not been independently verified.  It is the responsibility of the Buyer to determine the accuracy of all components of the sale and Medallions.  Each potential bidder is responsible for conducting his or her own independent inspections, investigations, inquiries, and due diligence concerning the Medallions, including without limitation physical attributes of the Medallions.  All prospective bidders are urged to conduct their own due diligence prior to submitting an offer.  Bid rigging is illegal and suspected violations will be reported to the Department of Justice for investigation and prosecution.